Welcome
to
 Pronghorn
 Productions
Producing outdoor TV and video since 2006
 The Rough Cuts
Episode 1 
 Hannah's 2012 Turkey  
Waiting for the Fall 
  Season 6
Coming soon!
2013 promo video
Advertising spots still available for 2013
Contact
Chris Kittleson
(608)438-7250   pronghornproductionstv@yahoo.com 
Our latest DVD release is now available!!!
Waiting for the Fall is a popular TV series born from the culmination of years of outdoor footage shot by Chris Kittleson and the Pronghorn Productions crew! What started out as Pronghorn Productions TV has evolved into some of the best entertainment and educational hunting in North America! Join Chris and the crew as they hunt for big Canadian Black Bear, Wiley South Texas Javelina and big old Wisconsin Whitetails! With a total of 11 kills and a few "firsts" this DVD proves to be exciting and entertaining for all! We get it done with the stick and string on all but 2 of the hunts, so if bow hunting is your thing this is the DVD for you!
Over 2 1/2 hours of entertainment!!!!!!!!!
                                    Like us on Facebook
Hannah's first turkey
It was Friday the 13th, my dad picked me up from school and we went up our field road but it started to rain. My grandpa told us there were a couple turkeys in one of the fields so we checked there, we saw two so we stalked them but by the time we got there they were gone. So we walked through the field to see if there were anymore but there weren't. We used the fence row to sneak down to see if there were any there but there wasn't, but we looked up on the hill and there were two gobblers so we thought we would sneak up there, on the way to the birds we saw a deer but it got spooked, then we had to cross a big puddle of water and my boots got soaked so I had to walk in drenched boots! By the time we got there they had already left so we walked a little bit farther and we looked out passed all the fields and we saw the two gobblers but now there were a long ways away, so we walked through the woods. We ran across a morel mushroom and we called it our good luck charm, we got to the point of the woods and we were going to call them down but when we were close we spooked two birds on the field edge, we thought we spooked the gobblers we had been stalking, so we were going to head back to the truck, (I was tired and cold from all the walking), but when we were at the edge of the hayfield we saw "our" gobblers at the top of the hill! They had their heads tucked under their wings, so we waited to see what they would do and one went to the left of us, but the other started coming right towards us! He was about 200 yards and walking right at us in the open hay field! He was coming to see what we were but when he came 20 to 30 yards he didn't really mind us.  Just then the other gobbler flew away, but "my" bird kept coming! It was hard because I was sitting on my side in the very wet hay field. My dad handed me the gun and by that time he was 10 yards away!! I was sitting on my side and my dad says shoot him, shoot him but I was scared the 12 ga. was going to kick back, but he kept telling me to shoot so I said okay and 1 2 3 BOOM I got him!!!! My heart was pounding very loud and I was so excited I didn't even feel the kick at all. Because we were trapped in the open field, my Dad could not dare to get out the video camera to get it on tape, but we took lots of pictures and my Dad videoed me after I killed my very first Turkey!
My turkey weighed 17.5lbs. and had ¾" spurs and a 10 inch beard!
 Season 6
Coming soon!
Now Available!!!!!!
PPTV "Best of Season 1"
Waiting for the Fall
Call me if you are interested in advertising on the show
Chris @ (608)438-7250
 Click on the Waiting for the Fall video link on the nav bar to view past episodes
Contact  me on Facebook 
 Chris Kittleson | Create Your Badge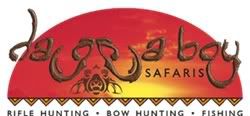 For booking information with Daggaboy Safaris, Contact me @ (608)438-7250